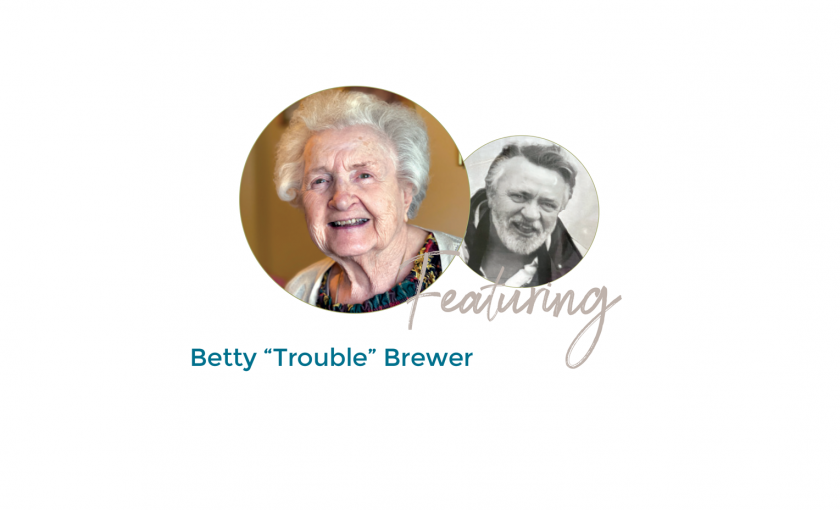 I was sitting in Michele's office one day when an energetic woman on a mission stepped through the door. She said to me, do you know who I am? Before I could reply she said. "My name is Betty, but I'm known as Trouble."
Maybe it was Betty, as a child, peeking at her Christmas presents in the cedar chest before they were wrapped. She calls it the "Worst Christmas ever!" Or perhaps it was Betty, delivering her precious daughter, breach. Sure, all of that spells trouble. But it is hard to square the nickname with this seemingly always animated and always cheerful neighbor I now know as Betty "Trouble" Brewer.
You may not know Betty yet, but you are sure to have seen her. She might have sped past you on one of her four daily walks around the perimeter of the building. If you smell chocolate wafting through the air—probably Betty is nearby. She loves chocolate. (And she loves giving it away!)
Betty grew up in Denver. She met a young man named Bill while ushering people to their seats at the Oriental theatre. She coyly sat he and his buddy in the two seats next to where she was sitting. A date ensued. They took the bus downtown to the Paramount theatre and saw Snow White. Bill brought her home afterward, walked her to her door and gave her a peck on the cheek. As she says, a "perfect gentleman." The two were married six months later, becoming best friends for life. Betty was working in fashion, and Bill, after a couple of years in the Coast Guard, started a multi-decade career in the Sundstrand corporation. They were married more than four decades when Bill suffered a massive heart attack and died.
Betty's son and daughter found Crossroads at Northglenn for Betty when she needed just the right assisted living family. They fill in for their dad, Bill, these days, continuing to spoil her and keep her refrigerator filled with goodies. She also enjoys being a grandmother and great-grandmother. Three things she loves about Crossroads is her spacious private apartment, huggable Mike, the maintenance director, and Colt, one of Northglenn's dog regulars.
Next time you see Betty, ask her for some chocolate. But really, she'll be expecting you to say—"Here comes trouble."
David Brillhart