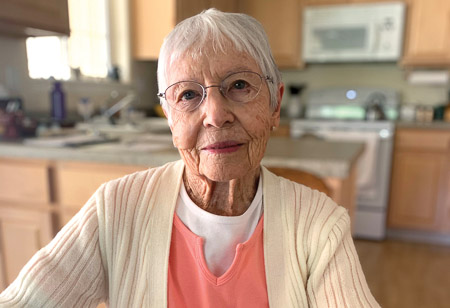 Pheobe was only 16 years old when she acquired a family heirloom. This heirloom is an 1897 A.B. Chase piano that was owned by her grandmother. The piano had been in her grandmother's family since 1923. When her grandmother passed away, Phoebe and her mother traveled to Red Oak, Iowa, for the funeral. Her grandfather said whoever could play it could have it. Pheobe sat down and played In the Shade of the Old Apple Tree "with flourishes," as she would tell the story. The piano made the long journey by train to Pheobe's home in Glenwood Springs, CO.
This 16-year-old girl grew to have a family of her own. Bonnie, who is a resident here at Crossroads, is Pheobe's daughter and had inherited the piano from her mother when she passed away in 1999. Bonnie remembers her mother playing piano at church and at the lodge she used to belong to. Her mother was not only a great pianist, but she also played the violin, mandolin, and guitar. Bonnie took piano lessons for about 3 years, but recalls that she was never a good "practicer". She now wished she had taken more lessons. The clarinet drew her interest with being able to play in the band and the orchestra.
There is an Ettude Magazine sitting on the piano in the photograph of Pheobe. Bonnie says this magazine was a subscription that her mother really enjoyed. It not only had music sheets in it but had music education. Bonnie still has a box of these magazines in her possession and enjoys looking through them from time to time. This piano, with a rich history, has found a home in the parlor of our assisted living building and is enjoyed by many. Bonnie, who was ready to make a move to be closer to family this past February, offered to donate the piano to Crossroads. She says "When Crossroads said they would take the piano, it sealed the deal. I was happy to be close to the piano still and I hope people play it." The piano is a beautiful addition to our community here at Crossroads and it is being enjoyed by many.