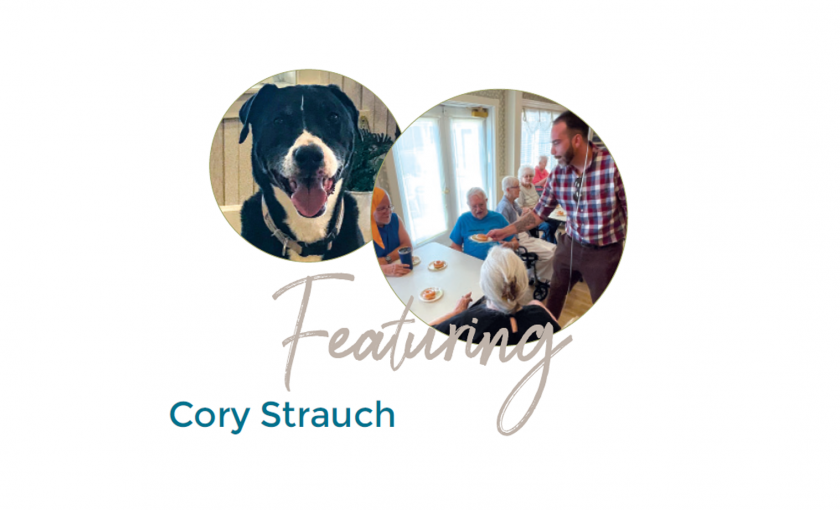 Just in case you didn't know, before Cory Strauch leaves Northglenn, you ought to know a bit more about the man with the dog.
Cory grew up in healthcare. His mom was a nurse and his grandmother ran a home health company. His first personal encounter with healthcare was in high school. Cory, as a member of a championship ROTC unit, learned discipline and responsibility. He was also introduced to seniors with and without cognitive deficits while participating in community outreach programs.
His is a true "work your way" up story when it comes to his experience in assisted living and memory care. He began as a dishwasher at 15 and then moved to caregiving when he turned 16. By 18, Cory was working in various facilities as a QMAP and other roles. At Crossroads, Cory
first worked overnights as a QMAP and soon transitioned into daytime work, eventually becoming a Resident Care Coordinator and most recently the Resident's Services Director at Crossroads at Northglenn.
Cory received his Executive Director license in January 2020 and has been in Crossroad's Administrator In Training program since. Satisfaction of the resident, staff, family and care provider has always been Cory's utmost priority and one he plans to continue as he leads the team at Crossroads at Lakewood. He is truly grateful for all of your well wishes and he promises to visit. And of course, he will bring Colt with him.