Independent Living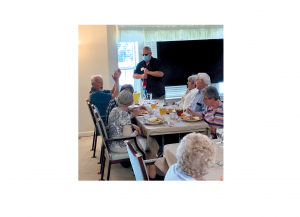 61 YEARS OF MARRIAGE
At the noon meal served in the community cottage, our Dietary Director, Clyde, led a nice toast to Bill and Trudy Wason who were celebrating their 61st wedding anniversary. The Crossroads staff wish you both continued love and happiness for many years to come.
Assisted Living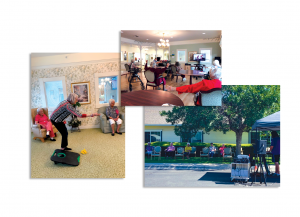 IMPROVING HEALTH AND FITNESS
Morning exercise is a habitual routine for many of the residents. Not only is it good for your heart
and muscles, but it is good for your mood and mental health. Our Sit N' Fit exercise classes are low impact and a safe way to get our bodies moving.
WHAT IS CORN HOLE?
If you aren't familiar, corn hole is typically a lawn game where a team tosses bags of corn into a
hole on a raised board. The way points are accrued varies, but a bag in the hole will gain your team 3 points and a bag on the board will gain your team 1 point. Corn hole has become a popular activity around here. Annie is bound and determined to toss her bag in the whole while her friends, Archie and Mary, observe her efforts.
OUTDOOR CONCERT WITH NICK
Nick Carozza is one of the newer entertainers to perform at Crossroads. He plays more jazz, rock-type
music across all eras. The residents have come to enjoy him and they wished him well at his last concert.
He will be going back to school this fall but assures us he will let us know when he is back in town and
can come perform for us.
Memory Care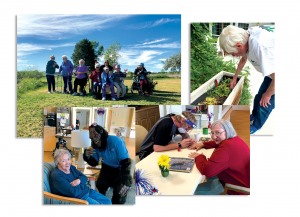 GROWING AND
CULTIVATING PLANTS
Working with the soil was a way of life for many of our residents in our rural community. They may have
owned a ranch, farm, or orchard. Maybe they had a garden and preserved the produce for the winter.
Some may have enjoyed caring for beautiful flowers. Our residents may not be cultivating plants like they have in their past, but it is still something they enjoy doing. Larry used to live on an orchard and keeping busy with taking care of the landscape is what he spends most of days doing.
NAIL CARE
Who says you need to go to the salon for a nice manicure and to feel pampered? That gets done right here in house by our wonderful staff. Diane likes getting her fingernails painted and she feels pretty good afterwards.
A SPONTANEOUS, UNEXPECTED VISITOR
Sometimes we have the most fun at an impromptu event or outing. In this case, we had a fun visitor that made everyone laugh, or at least brought a smile to their face. Wouldn't a dancing gorilla make you crack a smile?
FISHING TRIP
The fishing trip to Confluence Lake ended up with no fishing, but rather a nice walk and just enjoying the
beautiful place we call home. It was so nice getting out into the fresh air and just being still.