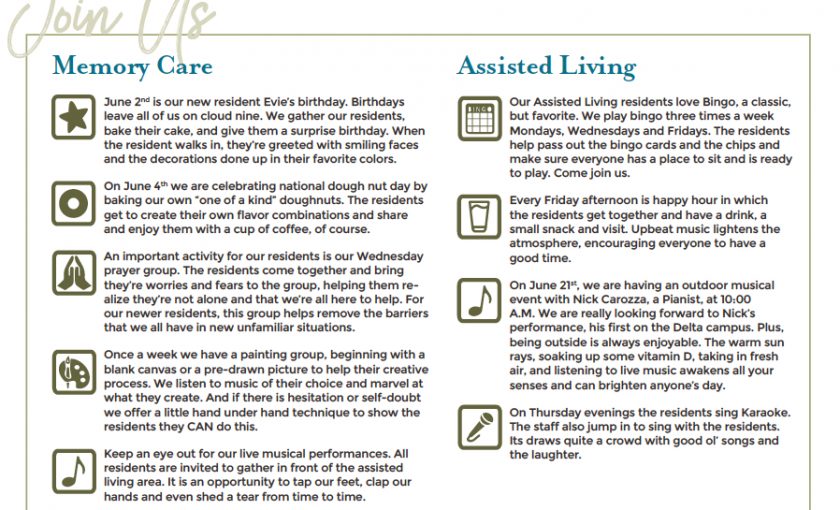 Memory Care
June 2nd is our new resident Evie's birthday. Birthdays leave all of us on cloud nine. We gather our residents, bake their cake, and give them a surprise birthday. When the resident walks in, they're greeted with smiling faces and the decorations done up in their favorite colors.
On June 4th we are celebrating national dough nut day by baking our own "one of a kind" doughnuts. The residents get to create their own flavor combinations and share and enjoy them with a cup of coffee, of course.
An important activity for our residents is our Wednesday prayer group. The residents come together and bring their worries and fears to the group, helping them realize they're not alone and that we're all here to help. For our newer residents, this group helps remove the barriers that we all have in new unfamiliar situations.
Once a week we have a painting group, beginning with a blank canvas or a pre-drawn picture to help their creative process. We listen to music of their choice and marvel at what they create. And if there is hesitation or self-doubt we offer a little hand under hand technique to show the residents they CAN do this.
Keep an eye out for our live musical performances. All residents are invited to gather in front of the assisted living area. It is an opportunity to tap our feet, clap our hands and even shed a tear from time to time.
Assisted Living
Our Assisted Living residents love Bingo, a classic, but favorite. We play bingo three times a week Mondays, Wednesdays and Fridays. The residents help pass out the bingo cards and the chips and make sure everyone has a place to sit and is ready to play. Come join us.
Every Friday afternoon is happy hour in which the residents get together and have a drink, a small snack and visit. Upbeat music lightens the atmosphere, encouraging everyone to have a good time.
On June 21st, we are having an outdoor musical event with Nick Carozza, a Pianist, at 10:00 A.M. We are really looking forward to Nick's performance, his first on the Delta campus. Plus, being outside is always enjoyable. The warm sun rays, soaking up some vitamin D, taking in fresh air, and listening to live music awakens all your senses and can brighten anyone's day.
On Thursday evenings the residents sing Karaoke. The staff also jump in to sing with the residents. Its draws quite a crowd with good ol' songs and the laughter.