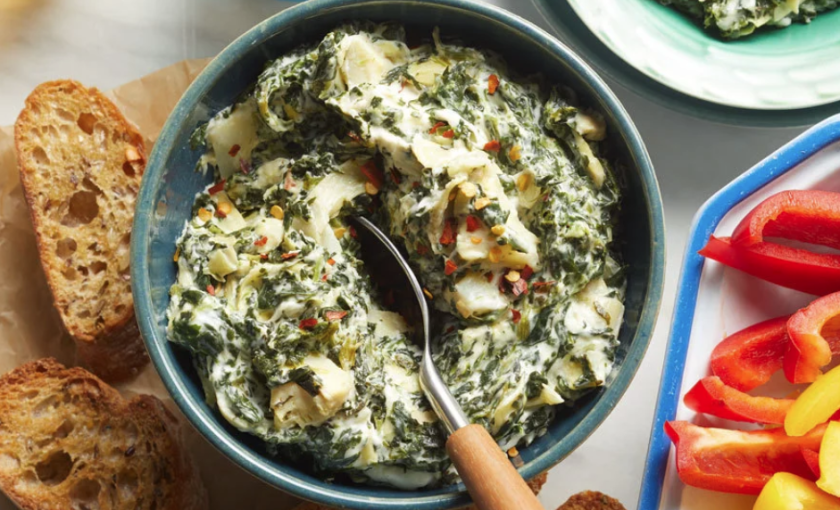 This creamy, crowd-pleasing dip comes together with ease in your crock pot. Leave it in the slow cooker all party long to keep it warm for serving with perfect, melty cheese in every bite. Whole-wheat bread and raw veggie dippers allow you to dig in without the guilt.
INGREDIENTS
1 (16 ounce) bag frozen chopped spinach, thawed, and squeezed dry
1 (14 ounce) can artichoke hearts, drained and chopped
8 ounces reduced-fat cream cheese, cut into cubes
8 ounces reduced-fat sour cream
½ cup shredded whole-milk mozzarella cheese
½ cup grated Parmesan cheese
½ teaspoon garlic powder
¼ teaspoon crushed red pepper
¼ teaspoon salt
¼ teaspoon ground pepper
4 cups sliced vegetables, such as carrots and bell peppers
16 slices whole-wheat baguette (1/2 inch thick), toasted
DIRECTIONS
Combine spinach, artichoke hearts, cream cheese, sour cream, mozzarella, Parmesan, garlic powder, crushed red pepper, salt and pepper in a 4-quart slow cooker.
Cook on High for 2 hours. Stir and serve with sliced vegetables and baguette slices.