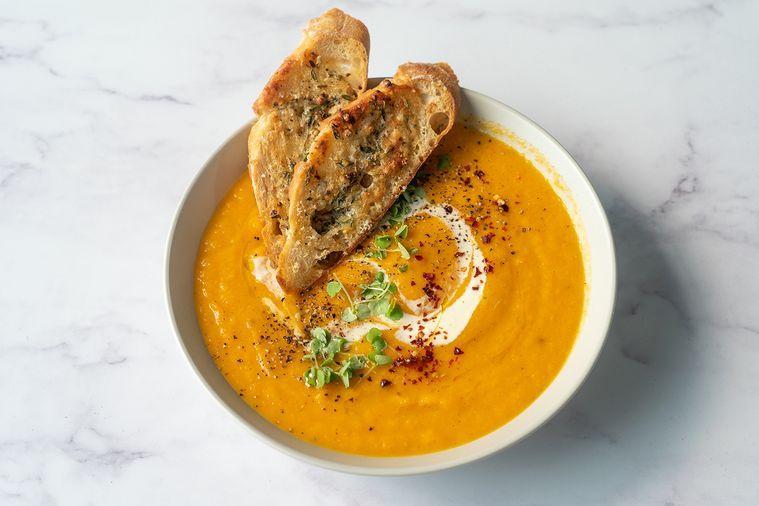 INGREDIENTS FOR THE SOUP
1 (about 3.5lbs) butternut pumpkin, halved
2 tbs extra virgin olive oil
8 thyme sprigs
2 large carrots
4 slices cured and smoked streaky bacon (optional)
½ tsp fennel seeds
½ tsp chili flakes, plus extra to serve
1 onion (unpeeled)
3 garlic cloves (unpeeled)
2 cups chicken or vegetable stock
2 tbs creme fraiche (plus extra to serve)
Micro herbs (optional), to serve
FOR THE SPICED PARMESAN CROUTONS
2/3 cup finely grated parmesan, plus extra grated to serve
6 tbsp unsalted butter, softened
½ tsp fennel seeds, crushed
½ tsp chili flakes, plus extra to serve
½ tsp coriander seeds, crushed
3 thyme sprigs, leaves picked
½ sourdough baguette, sliced on an angle
DIRECTIONS
Preheat oven to 425° and line a large baking tray with baking paper. Drizzle the cut sides of the pumpkin with 1 tbs oil, then place, cut-side down, on prepared tray on top of thyme sprigs.
Place the carrots and bacon in the middle of a large piece of foil. Sprinkle over the fennel seeds and chili flakes. Drizzle with the remaining 1 tbs oil. Add to the baking tray and roast for 30 minutes.
Remove the vegetable mixture from the oven and add the onion to the tray. Enclose the garlic in foil and add to the baking tray. Roast for a further 30 minutes or until tender.
Meanwhile, for the croutons, combine the parmesan, butter, fennel seeds, chili flakes, coriander seeds and thyme in a bowl. Season. Stir to combine. Spread the butter mixture over 1 side of the baguette slices. Place on a lined baking tray. Sprinkle with extra parmesan. Set aside.
Remove vegetable mix from the oven and replace with the crouton tray. Roast for 8 minutes until golden and bubbling.
To make the soup, strip the thyme leaves from stalk and add to a large saucepan. Scoop out the pumpkin seeds and discard. Scoop out the pumpkin flesh and place in the saucepan with the carrots and bacon, if using. Peel the onion and garlic, and add to the pan. Add any remaining pan juices. Use a stick blender to break down slightly, then add the stock and 1½ cups water. Blend until smooth. Stir in the creme fraiche. Season to taste and cook over medium heat until warmed through.
Transfer to serving bowls. Top with extra creme fraiche and micro herbs. Season with pepper and sprinkle with extra chili flakes. Serve with spiced parmesan croutons.