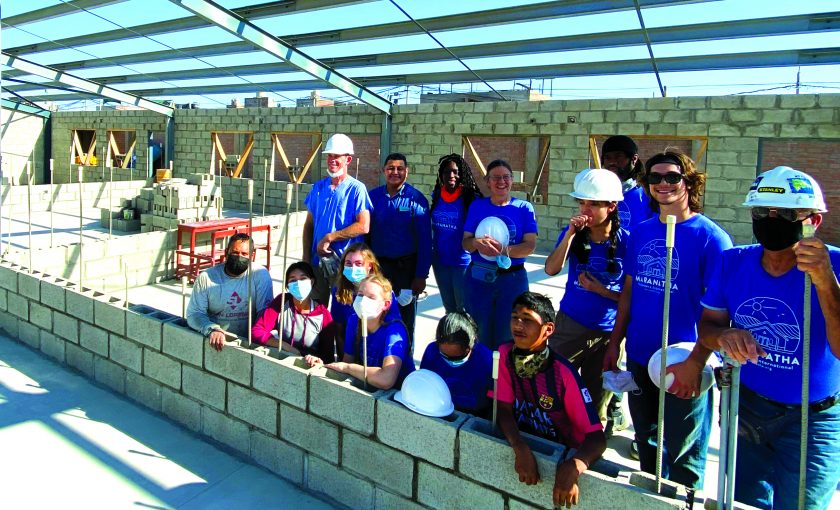 Elmer Barbosa was nervous … In just a matter of days, 11 volunteers were scheduled to arrive in Lima, Peru, where he is Maranatha Volunteers International's country director. He was anxious because this would be the first time, he and his team would welcome volunteers to Peru after a 15-month absence.
"It was supposed to be crazy in 2020. We were ready to receive about 400 volunteers during the months of March and April alone," says Barbosa, the memories of preparation still fresh in his mind. "But then it was interrupted." The interruption, caused by COVID, lasted for well over a year.
On June 17, when Barbosa caught sight of the very first Maranatha volunteer arriving at the airport, he couldn't stop smiling. "It was awesome to finally see them coming back." The small team, composed of brand new and veteran volunteers, began immediately. They worked quickly, finishing the back wall of a large school that doubles as a church and community Center in Ica, a town in southern Peru. Unexpectedly, the team even finished work on a second wall! When completed, the school will be called La Tinguiña.
Then, before he knew it, the project was over. Volunteers were packing up to head home or over to the excursion at Machu Picchu. On the last day, after receiving negative COVID tests for all the volunteers, dropping everyone off at the airport, and waving their goodbyes, the team in Peru exhaled.
"Having [the volunteers] back was special and at the same time it was a great responsibility," says Barbosa. The team's texts to each other said it all. 'Yes, we did it!' God kept everyone safe. It was nice to finally be back."
From 2004-2006, more than 3,000 Maranatha volunteers landed in Peru, constructing nearly 100 churches and schools. In 2019, Maranatha returned to Peru. Profits from Crossroads Senior Living supports this premiere non-profit and the short-term mission opportunities it provides people of all ages. Learn more about Maranatha at maranatha.org