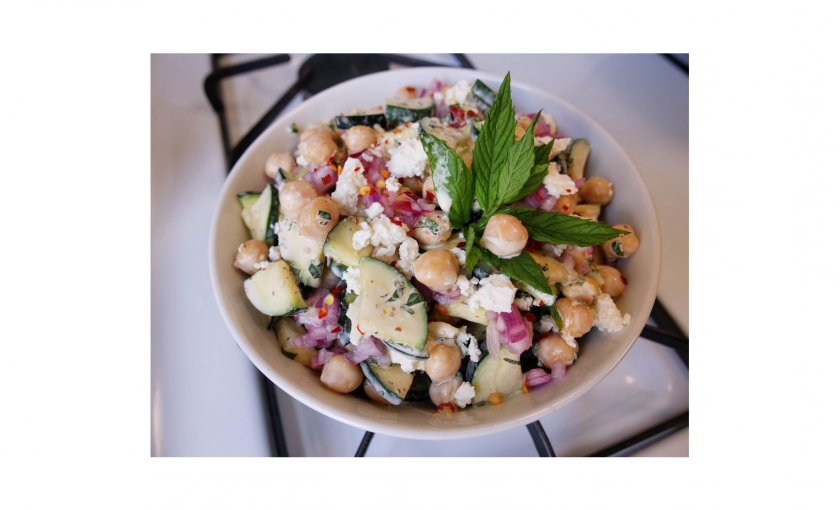 INGREDIENTS
FOR THE ZUCCHINI
1 1/2 lb. (about 3) zucchini, quartered and thinly sliced
1/2 tsp. kosher salt
FOR THE DRESSING
3 tbsp. mayonnaise
1/3 c. whole Greek yogurt
4 tsp. Dijon mustard
1 1/2 tsp. honey
1/4 c. mint leaves, finely chopped
Juice and zest of lemon
1/2 tsp. freshly ground black pepper
1/2 tsp. kosher salt
FOR THE PICKLED SHALLOTS
1 large shallot, minced
Juice of lemon
1/2 tsp. granulated sugar
1/2 tsp. kosher salt
FOR ASSEMBLY
1 (15.5-oz.) can chickpeas, rinsed and drained
Crumbled feta, for serving
Crushed red pepper flakes, for serving
DIRECTIONS
In a large colander, toss zucchini with salt until evenly coated. Let sit 15 minutes, then shake and drain well.
Meanwhile, make dressing: In a medium bowl, stir together all dressing ingredients until smooth and well combined.
Make pickled shallots: In a jar, add all pickled shallot ingredients. Close lid tightly and shake vigorously. Let sit 10 minutes.
Assemble salad: In a large mixing bowl, toss together drained zucchini, chickpeas, and most of the dressing until evenly coated. Transfer to a serving platter, then top with pickled shallots, crumbled feta, and red pepper flakes. Add more dressing as desired.
Recipe from Junie Xie